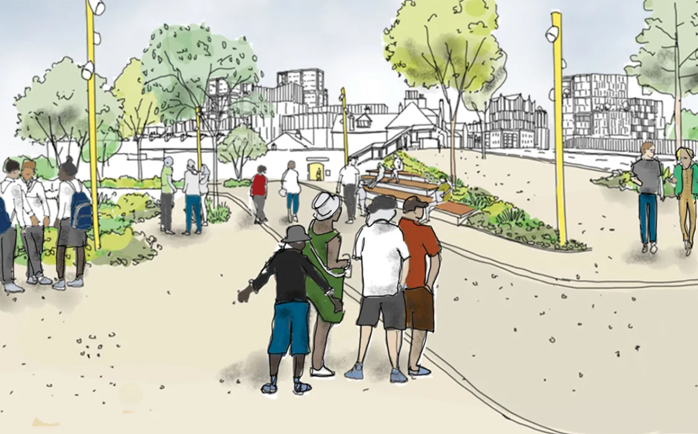 As part of the broader Catford Framework Lewisham Council are proposing extensive public realm improvements to the area around the Catford stations. Specific cycling-related elements in these plans include the widening of the Waterlink Way underpass under Catford Bridge, more cycle parking and lift access to Catford station. See the links below for full details and to comment to the Development Team on these plans.
There are also very exciting plans to widen Catford Bridge itself providing better pavements and ultimately install a cantilevered bridge hosting a fully-segregated cycle-track on its south side (coloured light-blue on schematic below). The South Circular through here is renowned for being narrow and extremely hazardous for people on bicycles with two critical collisions in recent years.
We hear that most of these station area improvements are already funded (apart from the cantilevered bridge which is a significant project in its own right) and therefore could be implemented over the next two or three years. The Council are looking for feedback now via the Catford Commonplace: https://catfordframework.commonplace.is/proposals/improvements-to-stations-area
Please make your own supportive comments and 'agree' with comments that emphasise the walking and cycling elements in the project.
FYI. Lewisham Cyclists have recently submitted a detailed set of comments on these plans to the Catford Development Team. You can review our submission here: https://lewishamcyclists.org.uk/wp-content/uploads/2021/02/Catford-Framework-document-comments-v3.pdf