In previous London Mayoral administrations, Quietways and Cycle Superhighways were developed as two different cycle networks. Under Sadiq Khan's administration this will all be dealt with together as Cycleways.
A21 Lewisham Spine Cycleway
After campaigning from LC, plans for segregated cycle lanes along the A21 Spine were first included in the Lewisham Cycle Strategy approved by Lewisham back in 2017. In his 2018 election manifesto the Lewisham Mayor Damian Egan reconfirmed the council's commitment to progressing these plans. The proposed route will run on the A21 from Downham to Lewisham Town Centre and then onwards via borough roads to meet CS4 in Deptford. In late 2018 TfL (the A21 is a TfL 'red' route) and Lewisham Council funded an initial Outcome Definition project to look at these proposals. We wrote to the Lewisham Mayor here on 15/4/20 requesting the commitment of council funds to the design and build of a cycleway on Deptford Church St to connect Cycleway 4 to the Waterlink Way and as a first stage of the Lewisham Spine.
Cycleway 4 (previously known as CS4)
This Tower Bridge to Greenwich route is currently under construction with completion sometime in 2021. Consultation on the detailed plans happened back in 2018 and our response to that consultation is here. We have been chasing TfL about this project for a number of years. Here is an update from 2017 on various issues we pursued then with TfL, including the delay on Cycleway 4.
Cycle Superhighway 5 (CS5)
When the previous Mayor first introduced his Cycling Vision for London, this route was designed to run from Lee to Victoria.  The Lewisham section was whittled away with the route exiting Southwark and barely scraping into New Cross.  Then the low quality of the built route meant it wasn't even designated as a Superhighway. At the time TfL discussed with us a kind of consolation extension of CS5, avoiding the New Cross gyratory which would have run through Fordham Park and Deptford to join the Waterlink Way. Elements of this route were again recently mentioned in the New Cross Area Framework plan (see our consultation response here) which includes a new bridge over the railway at New Cross Gate. The route has since been mooted again in TfL's Strategic Cycling Analysis as part of the TfL Cycling Action Plan to form Future Route 14, running from Oval to Deptford. It remains to be seen whether this will be progressed.
Other cycleway developments
Literary Heritage Trail – this is a very pleasant, predominantly off-road green cycling trail recently developed by the Lewisham Cycling Champion and LC. Starting at Downham (west end of Oakridge Rd) and ending at Grove Park (Baring Rd) it incorporates Railway Children Walk (famous because Edith Nesbit lived nearby and was inspired by the adjacent railway to write that famous book) and runs past the Grove Park Nature Reserve.
Molesworth St Cycleway – back in 2015 we returned a response here to TfL plans for upgrading this cycle path . The plans are here but TfL don't currently seem to have any intention of taking this forward. Eventually this section should become part of the proposed A21 Spine Cycleway.
Quietways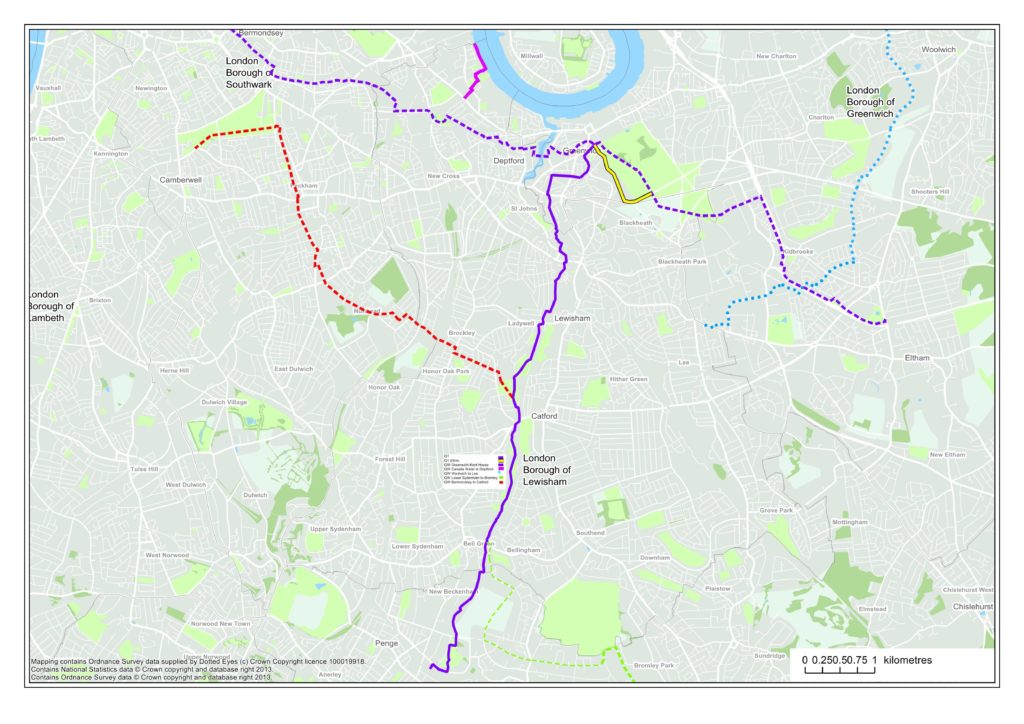 Quietways are quiet routes through London that formed part of the 2013 Mayor of London's vision for cycling. They have since been rebranded as Cycleways.
Cycleway 10 (formerly Quietway1, Q1)

The first Quietway opened in 2016 was Quietway 1 which runs through Lewisham from Greenwich to Waterloo. It has since been rebranded as Cycleway 10 with new signage on it's approach in Deptford.
Work on the southward extension of Q1 through Greenwich and Blackheath to Kidbrooke is ongoing, with improvements across Blackheath Common complete. LC have responded to several consultations on junction improvements along this route. Works at the entrance to Greenwich Park to improve the crossing of the A2 and entrance to the park were delayed by the pandemic but imminent.
Lewisham Cyclists worked with the London Borough of Lewisham (LBL) to ensure a safe, quiet route that can be used by all cyclists. You can read our response to LBL's consultation on the Q1 section in the borough here. LBL's original plans for the route can be found here.
An Excel spreadsheet with details of the responses to LBL's consultation on Q1 can be found here. Our post-implementation review of the LBL section of Q1 can be found here.
Q1 also runs through Southwark to Waterloo Bridge. Southwark Council's original proposals are here.
Cycleway 35 (formerly Quietway 83, Q83)

This is the upgrade of part of LCN22 (Bermondsey to Catford) to Quietway standard. In mid 2017 this was in the outline planning stages. Go here to view Lucia Quenya's summary of the 19/5/17 ride-over of the Southwark section of the proposed Q83.
No significant enhancements are currently expected for the Lewisham section of the route.
Other planned Quietway Developments in LBL
There is a map of the Phase 2 proposed Quietways in LBL here. This phase includes:
Upgrade of Waterlink Way (NCN21) to Quietway standard
This route is planned to run from Kent House station to Greenwich generally following the Waterlink Way in Lewisham, crossing over into Greenwich at Elverson Road station. Work on this upgrade started in 2018 with the work being done in bits and pieces. The two major elements in the construction works will be a new bridge (to replace the wooden bridge) south of Catford and a signalised crossing of Southend Lane.