18 of us at Ladywell on a lovely sunny morning, rode off along the Waterlink Way, through Lewisham, over the winding bridge which crosses the railway at Elverson Rd, up a steep hill which a few of us walked, but one fixie rider managed in one go, across Blackheath to Greenwich Park and its viewpoint in front of the statue of General James Wolfe.  Our Anarchism, Socialism and Revolution ride had begun. (NB I have included much of the information that I gave at each of the sites we stopped at in links to further information, in order to prevent this ride report becoming too lengthy).
As the group, by now numbering 20,  took in the beautiful view we South Londoners know so well,  I told the rather gruesome tale of what some claim as the first anarchist bomb in London.  Martial Bourdin (1868 – 1894) was a French anarchist, who died on 15 February 1894 when chemical explosives that he was carrying prematurely detonated outside the Royal Observatory in Greenwich Park.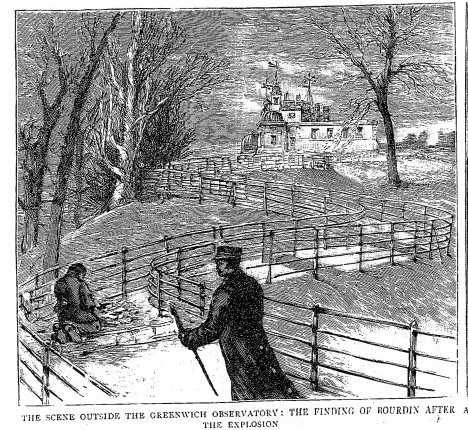 After this, we rode down the hill in Greenwich Park, through the foot tunnel to the Isle of Dogs, enjoying a short stretch of riverside riding, before closures of various kinds forced us back to the main road, through the dark noisy underground roundabout and thence to Limehouse.
Limehouse Town Hall still stands, but empty now.  It was once the venue where Lloyd George defended his People's Budget of 1909, which introduced unprecedented new taxes on the wealthy in order to finance new welfare reforms, also supported by Winston Churchill, then President of the Board of Trade.
Back on the road, through some pretty quiet streets, some cobbled, past the Mercer's Cottages Almshouses which sit opposite the green and pleasant churchyard of St Dunstan's (who would guess we were about a mile or so from London's financial centre here) our next stop was Stepney Green and St Dunstan's Mansions built in 1899.  It was here, when these buildings were new builds,  that Peter Kropotkin, by now an elder statesman of anarchism, in his sixties and despite  increasing health problems helped launch a new periodical, Listki khleb i volia (Pages from Bread and Freedom), the forerunner of which (Bread and Freedom) had been published by young radicals who returned to Russia after the 1905 revolution.
This venture lasted less than a year, but reinforced his contacts within anarchist groups; the journal was printed at 33 Dunstan Houses, Stepney Green, the headquarters of Yiddish anarchism and home for a time of Rudolf Rocker.  There is more information on Kropotkin's time in London http://sarahjyoung.com/site/2011/01/09/russians-in-london-pyotr-kropotkin/ here, probably more accurate than me!
Around the corner, in Jubilee St, we were able to learn more of Rudolf Rocker, as it was here at no 75 In 1906, the Arbeter Fraint (Yiddish: Worker's Friend) group realised a long time goal by establishing The Workers' Friend Club at Jubilee Street in Whitechapel.
Just round the corner in Sidney St, a story involving anarchists of a different variety and nationality but nevertheless contemporaneous with, Rocker, also unfolded during the winter of 1911/12.
A gang of Latvian anarchists attempted a robbery in the December of 1911, by breaking into a jeweller's in Houndsditch from a house in the terrace behind.  A neighbour alerted police, who went to the house.  Surprised, the gang ended up by shooting their way out, killing 2 policeman in the process.
A month or so later, the police were informed the gang were hiding out in a tenement, 100 Sidney St.  As the gang were believed to be heavily armed, the police laid siege to the house and a massive gun battle ensued, lasting several hours.    Eastenders had no phones, radios, any form of mass immediate communication, but nevertheless, word spread quickly and One of our riders informed us that at one point, possibly 250,000 people gathered around the Mile End Rd end  of the street, to witness the events.  Winston Churchill himself came down, as Home Secretary,  and is rumoured to have stopped the fire service from intervening when a bullet hit a gas pipe in the house and a blaze ensued.
Those 250,000 may well have gathered on Mile End waste, as it was,for centuries , a place where Londoners gathered to organise, celebrate and be inspired by speakers on religion, revolution, and countless other topics.  The only one remembered here with a statue is William Booth founder of the salvation Army.  Strangely, there is also a bust of Edward V11, for what reason I have been unable to discern.  But there were countless others who, arguably should be commemorated in some form.  It served as an East End equivalent of Hyde Park, hosting political debates and large-scale strike meetings.  It was here that  Rudolf Rocker addressed joint meetings of striking dockers and Jewish tailors in 1912.  My suggestion that it was also here that Richard II, the 14 year old king, addressed the masses joining the Peasant's Revolt, met with some scepticism and generated a good discussion.  Whatever, the truth of that may be, it has indisputably been a significant place in the social history of the east end and, I feel its importance in a history of its people should be better marked than it is.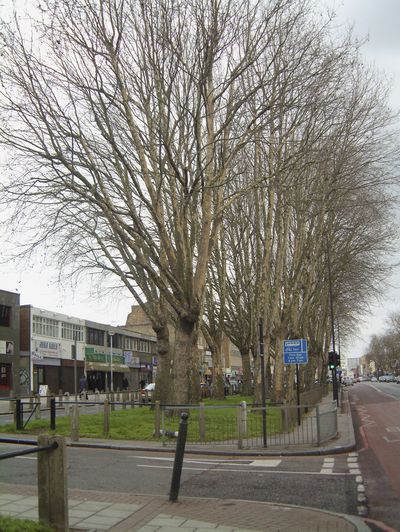 We then turned round, and headed back up Sidney St, through the London Hospital, where the old buildings of the hospital are intermingled with towering additions of steel and glass
We were heading towards Fieldgate St, where one of the old Rowton House hostels still stands. http://www.workhouses.org.uk/Rowton/
Jack London certainly stayed here and described it in "people of the Abyss."  Some believe that Josef Stalin, on his visit to London for the 5th RSDLP congress in 1907, stayed here.  He may well have done…it is just around the corner from Fulbourne Rd, where in a scruffy poorly built Victorian terrace, which amazingly still stands, the Bolsheviks laid plans to secure control of the Russian Social Democratic Labour Party and thus forge the path the Russian Revolution would take.  according to William Fishman, a respected academic from the area, who has made the study of the East End a life's work, through this shabby door walked Stalin, Lenin, Alexandra Kollontai, Leon Trotsky, Joseph Stalin, Maxim Gorky, Maxim Litvinov and Rosa Luxemburg.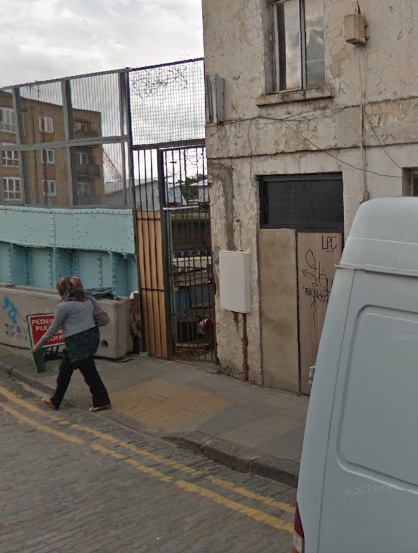 We also made a quick detour to visit the Freedom Bookshop, in Angel Alley, the home of the Freedom Press, which was first founded in 1886 by a group of anarchists friends, including Peter Kropotkin and you can read more about its history here.  http://freedompress.org.uk/news/about/history/ 
It was now getting past lunch time, and the radicals and revolutionaries amongst our own band were getting hungry and restless.  So we moved on as quickly as a large group of cyclists can on London's backstreets, detouring around brick lane to avoid the market, on cobbled streets that bear the faded imprints of countless refugees, radical and revolutionaries, crossing Bethnal Green Rd, heading up around Arnold Circus, now quite sought after tenements, leafy green centre circus complete with elegant bandstand which wiped out all trace of the notorious Old Nicol slum (apart from one remaining street name) when it was built.
Another busy Sunday market to avoid, Columbia Rd.  We cycled back on its cobbled upper end, passing Hackney cyclists on French style step through framed bikes, front baskets overflowing with recently purchased bunches of flowers.
From here it's a short ride past Hackney City Farm through Broadway Market to our lunch stop at Look Mum No Hands in Mare St.  A good place for a bunch of hungry cyclists, plenty of room inside and room outside to picnic and lock bikes.
After lunch, a few of our number left for afternoon appointments…and the rest of us cycled through Hackney,  past de Beauvoir Square and down to the site of the Brotherhood Church, the venue for that Congress of the Russian Social Democratic Labour Party , for which the Bolsheviks had planned their strategy in the rundown terrace we saw before lunch in Fulbourne St.  A Tesco Express stands on the site now, and there is no reminder at all of the place or the time when the course of the Russian Revolution was partly set.  For it was at this congress that the Bolsheviks and the Mensheviks finally split, due to their differences.  http://en.wikipedia.org/wiki/5th_Congress_of_the_Russian_Social_Democratic_Labour_Party
From here we crossed the New North Rd and found ourselves in the open airy squares of Islington.  Wide and attractive they may be, but as on of our group commented, compared to our more humble streets in South East London, there did seem to be a serious lack of public green space.
Across Amwell st, to Percy Circus, where there is finally some recognition that London once homed and sheltered many political refugees and radical thinkers… a blue plaque commemorating Lenin's lodging during the 5th congress in 1907, described above. It seemed an altogether finer, more luxurious dwelling than Stalin's in the Rowton house hostel.  Although the house Lenin stayed in seems to have gone, so some of us speculated that the original may well not have been so fine.  However, this interesting website seems to prove that the original was exactly like the remaining buildings and Lenin obviously had much wealthier connections than Stalin at this time. http://www.locallocalhistory.co.uk/municipal-housing/percy/index.htm
We then exited the circus, which is on a surprisingly steep hill and made our way to a safe crossing of the Euston Rd, past the new British Library building to St Pancras Churchyard, to view the grave of William Godwin and Mary Wollstonecraft.  Some view Godwin as the father of anarchism as in his An Enquiry Concerning Political Justice (1793) he argued that government is a corrupting force in society and creates dependence and ignorance.  He thought state laws, private property and marriage were things that lead to personal mental enslavement. There is more here, for those who are interested http://plato.stanford.edu/entries/godwin/
The churchyard itself is a fascinating place to which I have ridden several times, on Afterworker rides.  Calm and quiet in the midst of the noise, pollution, roads and railways that criss cross this area of London, there are many interesting things to look at, including the Hardy tree, a seat where the Beatles once sat, Sir John Soane's mausoleum and the Burdett Coutts memorial sundial.
More information here http://www.londongardensonline.org.uk/gardens-online-record.asp?ID=CAM103
Now, nearing the end of our exploration, a few more of our group elected to head south from here, while seven of us carried on to visit one more histoical reminder of London's place in revolutionary history.
We followed our wheelpath back across the Euston Rd, through Somers Town, Coram's Fields, the Brunswick Centre and on past the Art Deco facade of Mount Pleasant sorting office to Clerkenwell Green. http://www.marx-memorial-library.org/index.php?option=com_content&view=article&id=10&Itemid=4 Here, stands a simple attractive Georgian building, originally a school, then the headquarters of the London Patriotic Club, where Kropotkin spoke at a radical meeting in 1882. As a new century dawned, the building became home to The Twentieth Century Press, founded by the Social Democratic Federation as printer for its journal Justice. It was the first socialist Press in Clerkenwell. An early benefactor was William Morris, who guaranteed the rent of the Patriotic Club to the Twentieth Century Press. During its time in Clerkenwell Green, the Twentieth Century Press produced several of the earliest English editions of the works of Marx and Engels. The Twentieth Century Press remained at the building until 1922.
During Lenin's exile in London, he worked in the building from April 1902 to May 1903 editing and printing the journal ISKRA (The Spark), which was smuggled into Russia. The office is still preserved and open to visitors.
In 1933, the Marx Memorial Library and Workers School (as it was then known) was established in the building, where it remains to this day.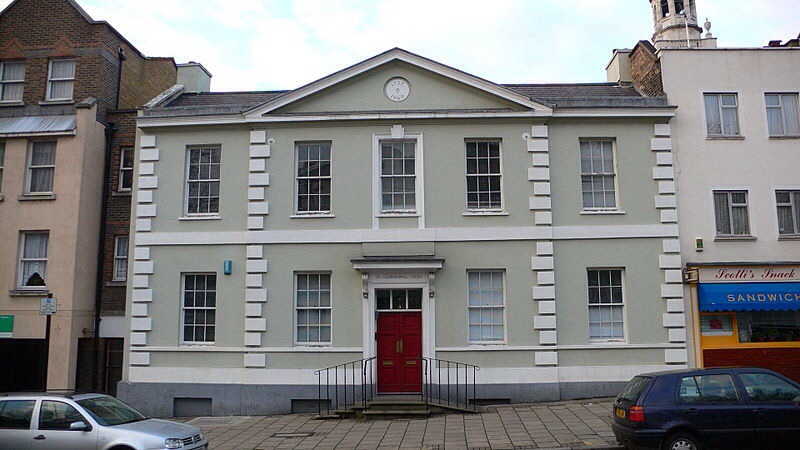 This was the last site on our itinerary and now all that was left was to head down to Blackfriars Bridge, cross the river and head through quiet South London streets to Burgess Park, busy with Peckham families enjoying the Bank Holiday weekend, through the avenue of cherry trees to the Surrey Canal Path…along the route at various points, riders peeled off to head homewards and by the time we climbed Peckham Rye, only five of us remained. We followed LCN 22 back to Ladywell Fields, where I said goodbye to the last of our group. A good day, in great company, in a fine city.
PS.  Most of the route was in my head, but I have roughly mapped it on ridewithgps…I cannot guarantee we followed every single one of these exact roads, though, and we definitely did not come back via the City and Southwark Bridge..we used Blackfriars.