We set off, having cofffeed up and breakfasted,  heading out through Ladywell Fields. The Nordic walking teacher called out a cheery goodbye and good wishes for our ride. I reciprocated, although wasn't sure what to substitute for the word "Ride" to describe their activity. Have a good Nordic walk sounded a little odd.
In record time I upset someone, though not a car driver as is often the case. I called out a warning to the riders behind to take care as a "jogger" was approaching. In a hugely offended and quite aggressive tone, jogger responded, "I'm a runner,not a jogger". Apologies, the whole running thing is a mystery to me and I have huge respect for runners, joggers etc. But not for rude people who get a bit precious about their particular style of physical activity.
I had decided to take a new route out of town into Kent, being a bit bored with our usual, though very pleasant, trip through Beckenham Place Park, Shortlands etc. The new one involved a few little climbs though, out through Grove Park, Chinbrook Meadows (where we were able to ride straight through without having to negotiate those crazy barriers as the keepers had opened up the access gates at the top). Then up past Elmstead Woods, on through Chislehurst and down Leesons Hill. At the bottom of the hill we stopped to regroup, pump up a tyre and then off again.
Attempting to access Star Lane, we came across big signs saying road closed. As we were preparing to go down anyway a driver informed us the whole road was completely blocked by fly tipping and we wouldn't even be able to walk through. Of course we ignored her.
It was just about the worst case of fly tipping we've come across. And we've come across loads over the past year or so. The road was indeed completely blocked with piles of building waste, including what was apparently asbestos, or so someone told me afterwards, anyway. Not sure I'd have gone through if I'd known. We had to carry our bikes over the piles for several yards. Then it began to rain.
At this point, I was thinking this was going to be the disaster ride of the year. Grim weather, dirty, disgusting roads, a longer, hillier route to Whitstable which was still 60 miles away.
But, for some odd reason we carried on. I seemed, for a short space of time, to lose all power to distinguish right from left and had to stop, u turn and recommence twice. Then a third time, I was convinced I'd taken the wrong turn, stopped the ride again, turned, rode back, then realised, I had taken the correct turn first time, after all. That confused a whole group of drivers who waited patiently while all 14 of us, u turned and carried on. They were possibly too bemused to complain, or perhaps thought they had stumbled across a free performance of bicycle ballet and were enjoying the show.
The rain seemed to be passing, and we felt a little cheered. And the scenery became more Spring countryside and less urban edges of London as we headed out towards Darenth. Then down to Fawkham Green where we regrouped again, munched a biscuit. It seemed to have taken us ages to cover 20 miles. But the weather was improving all the time and the thought of a pint on the pebbly beach outside The Old Neptune kept us going.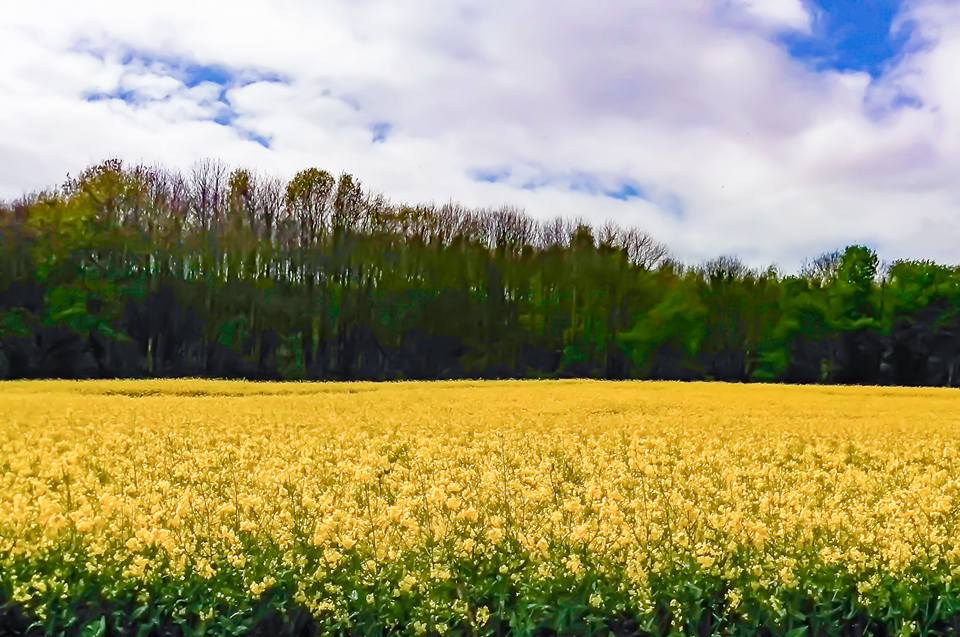 I had partly devised this route to find a way round the B260. We'd used it a few weeks ago on a ride to Aylesford, and it follows the flat line of the valley, so is a good link to get you quickly through this bit of North Kent. But it can be busy. However, there's a reason why cyclists like it. It's much flatter and way more direct that the alternative I'd found which wound its way round the country lanes to the south, up and down every little hill which popped up, of which there were quite a few. And the call of "Hole" rang out loud and clear through those hills. And rang out often. Kent Council, Lewisham Cyclists rides your roads frequently and can officially announce they are sh**e.
Although there had been no serious, heavy rain, we had, as I mentioned, been moistened thoroughly by several showers. They had left the roads damp. Roads that had seen no rain at all for weeks, so had probably gathered a film of diesel that had dried on the surface. And was now mixed with that little bit of drizzle, not enough to wash it away completely, as heavy rain can do quite quickly. But just enough to leave a slippery layer neatly coating the road surface. Probably the worst conditions for a cyclist descending a hill. And as we came down Ash Rd, one of our band was caught out and came sliding off.
Luckily there's a grass island at the junction here, so we were all able to get off the road quickly and tend to our casualty. Who was ok, if a little bruised and grazed. After a rest, graze clean up and bike check, we carried on. Our slightly injured colleague seemed fine and even managed the next climb with no obvious difficulties, although did welcome the offer of a little extra sugar in the form of some sticky sweets!
A few more ups and downs and then we were in Meopham. Here one of the group left us to join a partner who was in the area too.
From here it wasn't far to Sole St and Cobham and then that beautiful descent out of Cobham, with views out on either side, that made the rather sordid, unpleasant start of the ride a distant memory and reminded us all of why we do this week in, week out. Pure freedom.
People were beginning to think about lunch. I'm not always very good at remembering that Lewisham Cyclists like a decent lunch stop, where they can eat, drink, chat and socialise, rather than stop for five minutes, stuff their face with flapjack or even those disgusting gels, and move straight on. Or possibly not stop at all.  That difference in approach to feed stops is part of what makes our group a social rides group where a greater diversity of riders can feel welcome. I did, however, have a place in mind today. But we had to get over the Medway. And of course, being the pukkah riders we are, we do that via the M2.
Worry not. If only other motorways were designed this way. With a neat little bike crossing tucked down the side. A bit fiddly to get to, but the perfect way to cross the river and avoid getting snarled up in Rochester. Thanks to Bob for showing me this a while back.
Then it was just a question of riding down to Burham and heading into The Windmill there for our lunch stop. Very friendly staff who opened up the back gates so we could wheel the bikes into their little courtyard garden.
We all got served and seeing as I hadn't told them beforehand we were on our way, although it took a while, they did well to get our large group fed and watered and then on our way by 3pm.
It had taken us a long time to do the first 36 miles. Strangely, the second half, with bigger hills, was to be done in a much quicker time. Out of Burham following a bit of the Pilgrims Way, we then had to find the quiet routes through the tangle of major roads and motorway that intertwine north of Maidstone. If you're prepared to bounce along a longish stretch of the North Downs Way, this can be done fairly quickly. However, I know my fellow riders well and they don't always appreciate my off road shortcuts. So I had devised a longer route that missed most of this, but mainly kept to a tarmac surface.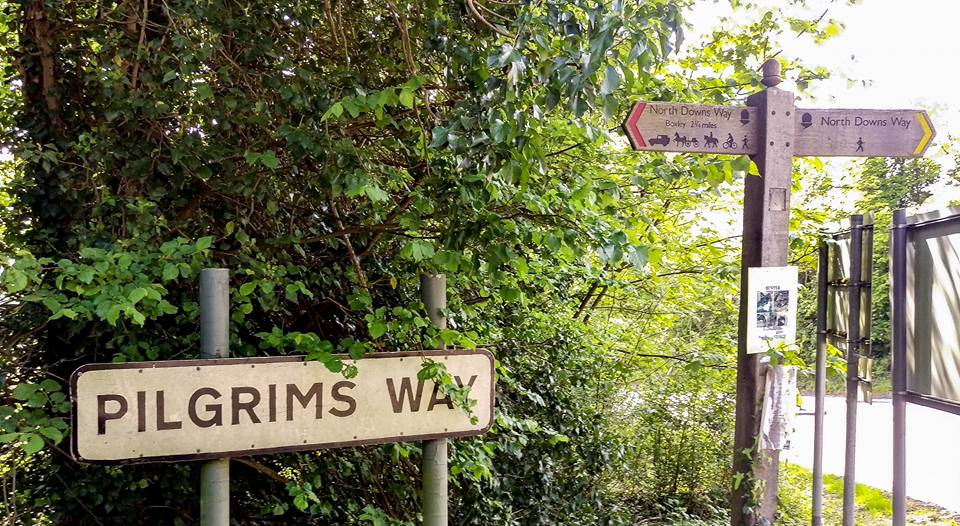 There was still a short stretch of North Downs Way. I was just beginning to think Ooops! This is a longer stretch of off road than than I thought it was going to be, when it finished with a sharp, short bump up to tarmac. Then down that odd stretch of the Old Chatham road, round to Boxley and then back on to another stretch of Pilgrims Way.
After a while there's yet another horrid busy A road to cross, the A249 Sittingbourne Rd. With a well ramped bridge to do it by. Which takes you neatly past the Old Cock Inn at Detling on to a wonderful little road which glides along a contour of the North Downs through Detling and Thurnham for about 4 miles, to Hollingbourne. A peach of a road. Very little motor traffic. Almost effortless riding. A slice of pure beautiful essentially English countryside.
And then there's Hollingbourne Hill! Definitely not effortless riding. About a mile of ascent which kicks up twice at the end! But made absolutely worth it by the ride to it that we had just completed, and the Ringlestone Rd descent from it. If only the authorities could see their way to filling in the numerous potholes which made the descent less than pleasurable for a few of our more cautious descenders. Luckily they all seemed to be on the left, so you could still fly down, with the rough surface adding an extra fun factor.
4 miles later and we rolled through Doddington. It's practically downhill all the way to Whitstable now. Just another 12 miles or so, crossing the A2 at our usual point, by the old Roman chapel, then up Bysing Wood Rd into the heart of Faversham, passing its centre, full of old and interesting buildings.
Once through Faversham, again I decided not to take the off road route alongside the creek which comes back to the road to Whitstable near Goodnestone, but instead stuck to the main road out of Faversham. It's a bit busier, but much quicker.
After the turn to Graveney, we realised we had a headwind. Which always makes this last 5 miles seem endless! We took turns to sit on the front, but the group was still split. Hard to keep together with the wind howling past you. The following group had the route I had planned. So we weren't too worried and planned to wait at the last turn into the town. After a few minutes, we decided to ring them, as we knew they shouldn't have been that far behind.
Unfortunately, I had forgotten when I planned the route, that, as sometimes happens with ridewithgps, when I linked the turn to Graveney up to Whitstable, it automatically took the route right along the seafront. Which is sort of rideable. In places. With steps and gates and stuff to make it a right pain. And something I haven't done for years, because it's so annoying. The only good thing being you are alongside the sea, which you can't see from the road route due to the sea wall. I had noticed this error from ridewithgps at the time, but just thought, as I knew the route from there, I would ignore this bit. Then promptly forgot about it. But the following group had just used that route! Exactly as it was. Ooops!
No real harm done. We all met up at the Old Neptune and I bought them a drink to stop them wreaking a terrible revenge.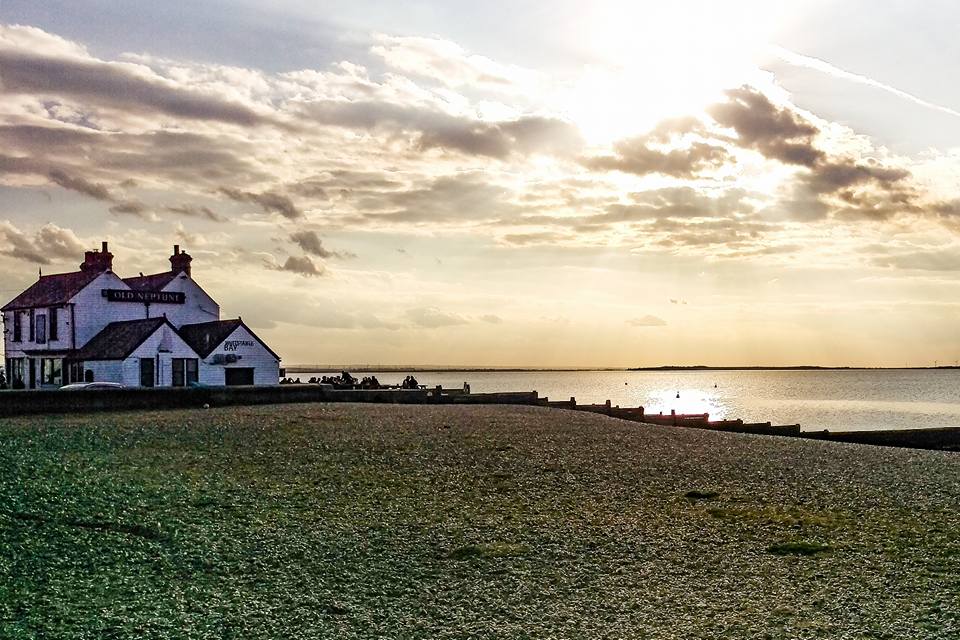 There was enough sun for us to sit out on the beach. Getting colder by the minute though, and by the time we had to leave for our train, it would have been too chilly to sit out much longer.
Back to the station, ably led by Fiona. And then home.
A long day, bit longer than I thought it would be. But that happens sometimes. And well, well worth it. Great roads, good riding, wonderful (tolerant, easygoing and understanding) company. Great backmarking from ace map reader and routefinder, Steve. And Fiona. And thanks also to the turn markers. All that helps so much, especially when the ride leader is of a certain age and showing it. What larks, Pip, what larks.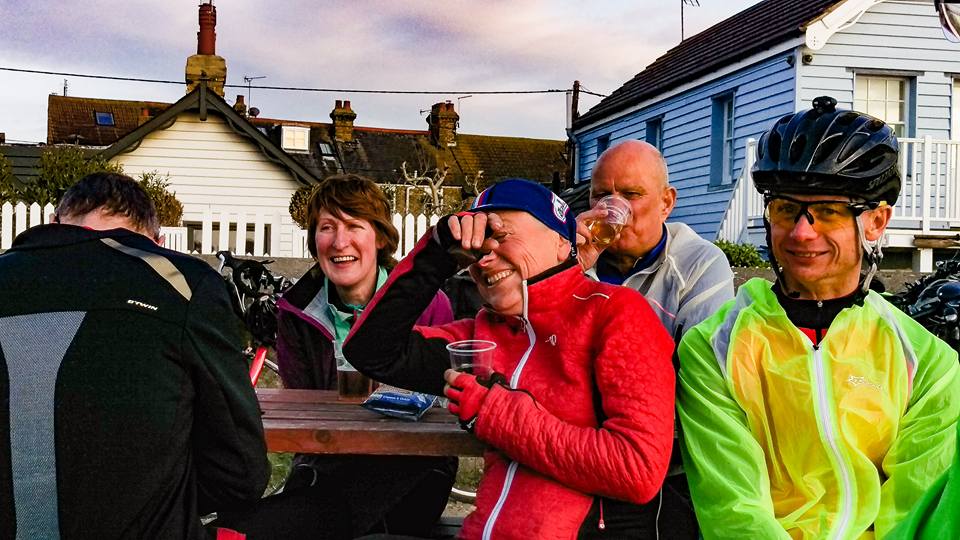 NB. I can take no credit for the great photos. All courtesy of Fiona. Not quite sure what my expression above is all about. I look happy, anyway!